Lots of Floral Foam, many colorful flowers and excited kids: The current cooperation of k&v, Florismart and Smithers-Oasis is showing what a children's birthday party or a floristry workshop for kids can look like. Passion for flowers knows no age limit!
OASIS® BIOLINE® Alpaca Plus
colorful range of flowers with stable stems, without thorns
child-friendly knives or, alternatively, scissors
Floralife® Aqua Color Sprays in various colors
Instead of sprays, you can also use wood lacquers.
container for rewatering
The fascination was written all over their faces. Since we had added a new Special Shape to our Floral Foam Range, we wanted to receive feedback from the most honest critics you could ever find – children. As these kind of workshops are aimed at children from 5 years of age, an elementary school was the perfect location for our creative workshop. In a primary school in Braunschweig, kids were allowed to let their imagination run free for one whole afternoon. They gave their alpacas bright and fancy haircuts. Our junior product testers were all on the same page and awarded us with an A+.
The field for DIY Kids Workshops is booming. If you are a florist, jump on the bandwagon! Offering Floristry Workshops for children is a win-win situation – kids love flowers and hosting a workshop with kids is fun! The possibilities are endless: Coupons for workshops are a great gift idea. And events like children's birthday parties are a good opportunity for Flower Workshops. However, family events with mom, dad and the rest of the family can be a convient opportunity too as those workshops keep children entertained. Project days in schools and preschools may also be an option.
Step 1
Water the alpacas and afterwards, spray them with your favorite colors. Using lots of different bright colors results in an amazing look!
Step 2
And now we have to wait, wait and wait. Let the color spray and the wood dry thoroughly. In the meantime, the children can choose flowers to decorate their alpaca.
Step 3
If the Color Spray has dried and the children have chosen their favorite flowers, the decorating part can begin. The frizzier your alpaca's haircut, the better!
Products used for this creation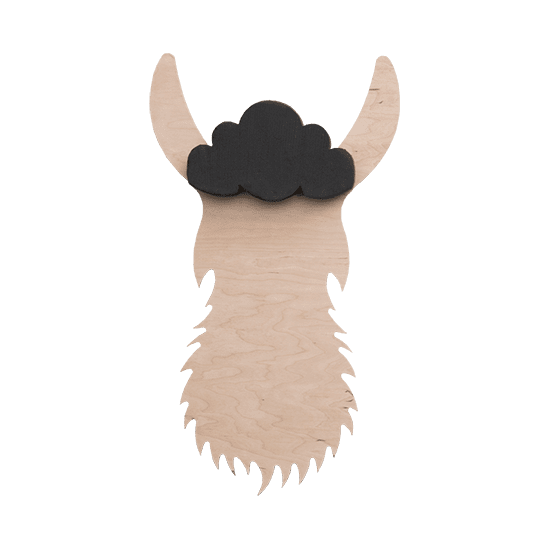 OASIS® BIOLINE® Alpaca Plus
Unicorns are outdated: With our new Alpaca Floral Foam Shape, you meet the current trend!
Floralife® Aqua Color Spray
Our water-based Spray does not pose a risk to children and flowers. It can be used inside as well.