The following flowers (botanical terms) and materials were used:
Berzelia lanuginosa
Brunia laevis
Clematis Cultivar
Eryngium Cultivar
Eustoma grandiflorum
Limonium latifolium
Nerine bowdenii
Protea neriifolia
Serruria florida
Stoebe plumosa
Vanda Cultivar
Ribbon
Florist wire (BUCO)
Silver wire (BUCO)
OASIS® ECObase® Lady Round Bridal Bouquet Holder
double-sided transparent adhesive tape
Hot glue
Floral glue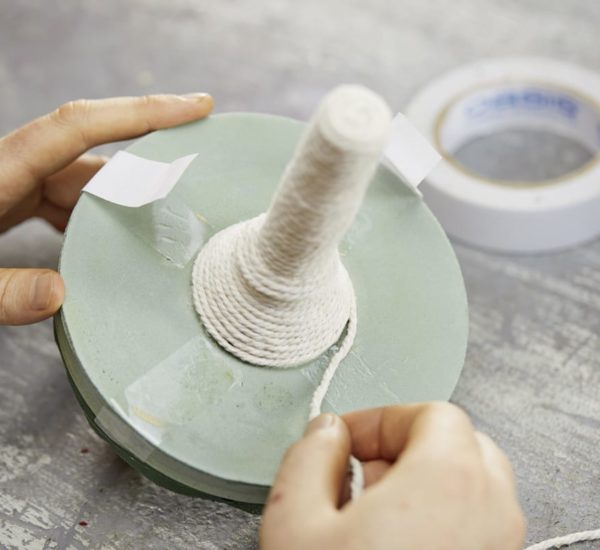 Step 1
Water the Fresh Floral Foam of the Bridal Bouquet Holder, cover the bottom of the holder with cord.
Step 2
Tie the stamens of the proteas into small bundles and wire them with silver wire.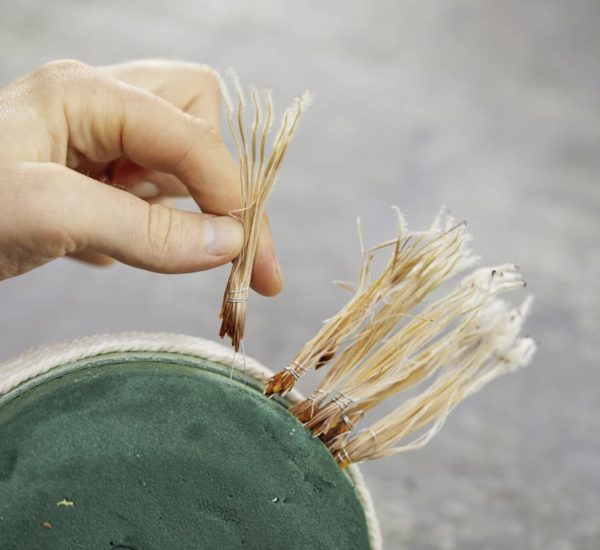 Step 3
Pin them all around the edge. Decorate the inside with the remaining florals in a dense way. Then glue on the dry florals and attach the ribbon with a knot.
Products used for this creation
OASIS® ECObase® Lady Round
Ideal base for modern, extraordinary bridal jewelry.