Advantages of Black Floral Foam – The OASIS® BLACK IDEAL Series
The dark colour of the OASIS® BLACK IDEAL Floral Foam has several advantages.
Creative advantages:
Colour effect: The dark base increases the colour effect of the flowers used. Particularly bright colours become more radiant and shades such as pink, yellow or orange shine more intensely.
Depth effect: Overall, the workpiece gains a greater optical depth, it appears more plastic and intense.
Extended design scope: Due to the changed optical effect, Black Foam can be used for both traditional and experimental designs. The intentional visibility of Floral Foam sections as part of the design results in a modern, design-oriented or graphic effect.
The ideal combination suited for table decoration and as a gift: OASIS® BLACK IDEAL Maxlife bricks and glass containers! The BLACK FOAM is also not recognizable as Floral Foam here. It looks noble and can remain uncovered, so that you can avoid the time-consuming filling with granulate, wrapping with leaves or anything similar. Materials and time are saved in this way.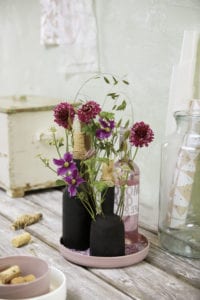 ©BLOOM's
General instructions for use:
The rich black hue of the Black Foam develops during watering.
If the foam is to remain visible, make sure not to damage the Floral Foam part.
OASIS® BLACK IDEAl Floral Foam can be used just like normal (green) OASIS® IDEAL Floral Foam. Both types of foam are identical and differ only in colour. The colour of the Black Floral Foam is also waterproof and does not leak when it is watered.
Have you already heard about Evi's insider? Explanatory Evi has got the right tips for many problems!